"For last year's words belong to last year's language and next year's words await another voice." – T.S. Eliot
With Christmas, the New Year and Australia Day done and dusted for another 11 months, we now roll up our sleeves and get stuck in to 2020. This year will be a year of change for everyone involved in Workbench, with the desktop version (MDE) moving in to an end-of-life phase. A final release of the desktop version is pending (7.41.4) to address an ever decreasing list of requirements and requests. Once this is released, we begin the countdown to the end of 2020 when maintenance of the legacy product will officially end.
What does this mean to users of the desktop system?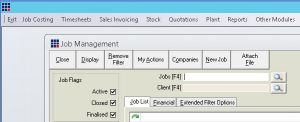 The desktop system will continue to function as is on its current environment. GT Management will continue to support the desktop Workbench system. After all we have 20 years of knowledge in the product. As we have experienced already, the desktop system will be susceptible to changes in Microsoft Windows and Office products, and that will be out of our control.
So, with Stock Management and Quotations set to arrive in Web Workbench this year as a final migration of features from the desktop system, the path to a smooth transition from the legacy desktop system to the new world of Web Workbench rests in the users' hands. We have 11 months. If you have not yet embraced Web Workbench, now is the time to get acquainted. Our consultants are ready to assist you with the migration from old to new.
Those clients running Web Workbench will attest to the increased functionality and much improved user interface that the product brings. The change will be worth it.